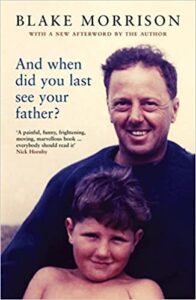 'I used to think the world divided between those who have children and those who don't; now I think it divides between those who've lost a parent and those whose parents are still alive.'
This is a memoir about loss, love and death. It is also an unflinching attempt to answer the question: when was Dr Arthur Morrison – the man I recognize to be my father – fully and unequivocally himself? Was it the man seen through an eight-year-old's eyes, jumping queues, doing deals, embarrassing his family? The man seen by a surly teenager – a sexual charmer, a mad inventor, a DIY enthusiast, a voracious parent? Or the man in pain on his death-bed, the charismatic GP reduced to a helpless patient? As it tries to answer these questions, the book takes its place alongside other classic studies of fathers, such as those by Edmund Gosse, J. R. Ackerley and Philip Roth.
First published in 1993, 'And When Did You Last See Your Father?' is a portrait of family life, father-son relationships and bereavement. It became a bestseller, was translated into several languages (including Japanese and Arabic), and inspired a whole genre of confessional memoirs. A new edition, with an afterword by the author, was published in 2006.
And when did you last see your father? won the Waterstone's/Volvo/Esquire Award for Non-Fiction and the JR Ackerley Prize for Autobiography 1993.
Paperback: 224 pages

Publisher: Granta Books (2 Oct 2006)
Language English
ISBN: 1862079080
Readership: General
Edition: New ed
Genre: Biography & Autobiography
Secondary genre: General
External Links: interviews, articles, multimedia:
Actor Colin Firth Plays Blake Morrison in the film And when did you last see your father?
See TV/Film Page for more information
Reviews
A painful, funny, frightening, moving, marvellous book … everybody should read it.  Nick Hornby
What Blake Morrison has produced is a classic of family literature … The life is held up so close to one's face that one can smell it, touch it, marvel at the power of words to unlock and unravel, then pour helter-skelter over our heads this magical brainstorm of memories.   Hugo Williams, Spectator
Blake Morrison lays one of the most basic human relationships out on the slab, dissects it and displays it … the effect is pungent, disturbing, entirely unforgettable.   Sean French, The Times
A near-masterpiece … Morrison writes with a reckless respect for the truth.   Roy Hattersley, Guardian