Two Sisters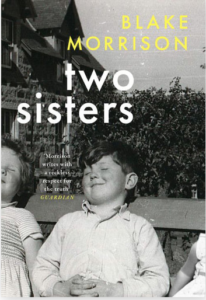 Blake Morrison has lost a sister and a half-sister in recent years. Both are the subjects of this remarkable and heart-breaking memoir, along with a forensic examination of sibling relationships in history and literature.
Blake's sister Gill struggled with alcoholism for a large part of her life, and her shocking death is the starting point for Two Sisters. Blake returns to their childhood to search for the origins of her later difficulties, and in doing so unearths the story behind his half-sister, Josie.
As he unravels these narratives, Blake deals movingly in the guilt and shame that will be familiar to every person who has struggled with addiction in their family. He is unflinching in doing so, and the result is a book which provides testament to that common struggle, as well as acknowledging the complex, hidden forces on which all our lives are based.
Two Sisters is the extraordinary new memoir from the chronicler of human frailty, Blake Morrison.
REVIEWS
Two Sisters by Blake Morrison ★★★★★ – Martin Chilton
The Independent  29 January 2023
Friends of Blake Morrison's nephew Liam who did shifts at the local Co-op in Yorkshire would ring Liam to let him know that his mum had passed out again on the pavement outside. It's one of many painful vignettes in Two Sisters, Blake Morrison's memoir about his sister Gillian and half-sister Josie, both of whom died, self-destructively, before their time.
"In my grief since Gill's death I've been re-examining childhood memories," writes Morrison, who spares nobody in this painful account of family flaws and unhappiness. His own father seems to have been an odd, controlling man. As well as keeping love-child Josie secret, he was capable of strange, cruel behaviour towards his children (he accused Blake Morrison of being "infantile" and "still wearing nappies" at 18), and seemingly locked adult Gill in the cellar for 36 hours after she was accused of stealing. The length of incarceration may have been exaggerated. The elusiveness of truth and pitfalls of memory are a theme of the memoir.
Gill was open about drinking herself to oblivion, and Morrison is wise not to attempt to give definitive answers to the mysteries of alcohol addiction. In Gill's case, we are given some understanding of why someone would drink so heavily and end up doing the sort of miserable and humiliating things that happen when dipsomania gets out of control. Morrison is even-handed, though, and honest about his own selfish, melodramatic behaviour at times.
The book is so much more than a misery memoir, however, offering rich insights into sibling rivalry and love, especially in the wider literary landscape. There are dozens of interesting footnotes, drawing on the wisdom of writers as diverse as George Eliot and John Cheever. And you can't help but marvel at the bizarre nature of some sibling relationships. What weirdness was really going on with Dorothy and William Wordsworth?
Alcoholism, suicide, blindness, depression and grief are clearly not cheery subjects, but Two Sisters is an acute, wonderfully adroit book, overflowing with sharp yet compassionate observations about human nature.
Audiobook from here