Dr Ox's Experiment (1998). Opera based on Jules Verne's novella of that title. Music by Gavin Bryars
The premiere of this opera, directed by Atom Egoyan, with a set by Michael Levine and costume designs by Sandy Powell, was on 15 June 1998, at the Coliseum, St Martin's Lane, London, home of the English National Opera company. There were just five performances, at least one of them (to the dismay of both the author and the counter-tenor David James) coinciding with a crucial England game during the 1998 World Cup finals. The plot concerns an unimaginably tranquil town in nineteenth-century Flanders – one not found on any map – into which come the scientist and adventurer Dr Ox and his faithful assistant Ygene. Their offer to install gas lighting in the town is in reality an experiment to pump an oxygen-like gas into the atmosphere. The effects are chaotic and bacchanalian, and war threatens, until, in the climax of Act 2, there's a huge explosion and order is restored. A second, quite different production of the opera, with German subtitles, opened in Dortmund in January 1999.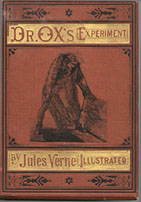 The text was published in the original ENO programme in 1998; the score was published by Schotts the previous year; Jules Verne's novella is available in various editions.
Brief note from Gavin Bryars' website