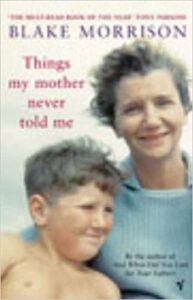 'Why did we fall in love like this, darling? I don't ever really wish we hadn't met, but it would have been the wisest thing.'
One of the many things his mother never quite told Blake was that before becoming Kim Morrison she had been Agnes O'Shea, one of a large family from County Kerry. There were other secrets too, and this is his search to uncover the truth about her – to trace how the girl who qualified as a doctor in Dublin and worked in English hospitals during the Second World War became a conventional Fifties wife and mother (though never quite as conventional as she seemed). At the heart of the book is a passionate wartime love affair seen through the frank, funny, furious letters Blake's parents wrote during their courtship. There's also the contrast between Kim's life on busy labour wards and her fiance's cushy exile in Iceland and the Azores. The closing chapters bring us up to the present – and Kim's last hours.
A companion volume to "And When Did You Last See Your Father?'. There Kim remains an intriguing but mostly silent figure; here she steps out of the shadows and is given her own story, in full.
Paperback: 320 pages
Publisher: Vintage (3 Jul 2003)
Language English
ISBN: 0099440725      Buy Online
Readership: General
Genre: Biography & Autobiography
Secondary genre: General
Prizes: Shortlisted for the WHSmith Book Awards (Biography & Autobiography) (2003)
Illustrations: 20 B&W Halftones

External Links: interviews, articles, multimedia:
Quotes
His prose has the diamond cut of a poet's eye, and his story is suffused with warmth and longing… an outstanding work of family literature.    The Independent
A sombre and elegaic story… [Morrison] has succeeded in giving an enduring presence to his mother, that which she would never have claimed for herself. It is an honourable achievement.    Margaret Drabble, The Guardian
A modestly -mannered book, quietly spoken like its heroine, but it deals eloquently with a large theme, the unknowability of others.
The Spectator