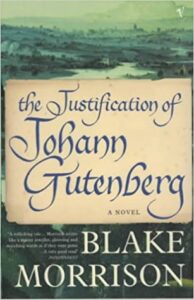 'I have no fear of dying. What I fear is that death will rub out what I have done, till not a trace of me is left upon the earth.'
Around 1400, in the city of Mainz, a man was born whose heretical invention – moveable metal type – was to alter the course of civilisation. Sixty-odd years later he died, robbed of his business, his printing presses and, so he thought, his immortality. Reading between the lines of history, this novel gives us Gutenberg's testament – his confession and apologia, as dictated to the kind of scribe whom his invention made redundant. Through the eyes of the ageing narrator, the Middle Ages are seen in a strange new light: the Plague, craft guilds, religious wars, chivalric love, sexual politics, the rise of capitalism – all are here, without seeming 'historical' or remote. The novel – Blake's first – captures moment of cultural transition as dramatic as the communications revolution of today.
A historical novel about a man who gambles everything – love, money, honour, friendship – in pursuit of the greatest invention of the last millennium.
Paperback: 259 pages

Publisher: Vintage (6 Sep 2001)
Language English
ISBN: 0099285290    Buy Online
Readership: General
Secondary genre: Contemporary, Historical
Genre: Fiction
External Links: interviews, articles, multimedia:
Reviews
'Morrison…tells a fascinating story'    Sunday Times
'A beautifully written novel… highly recommended'    Books Magazine
'Funny, charming and moving'    The Independent on Sunday
'Morrison has invented the inventor's life with great confidence and lightness of touch'  The Good Book Guide
'The novel has everything- fine writing, a compelling central character and a brilliant, fast-moving narrative'  Sunday Tribune
'A multi-faceted and carefully woven portrait of a complex character'   Scotland on Sunday
'A compelling read and a fascinating portrait of 15th century Europe'    Fabric