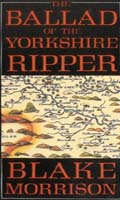 Ower t'ills o Bingley
stormclouds clap an drain
like opened blood-black blisters
leakin pus an pain.
Ail teems down like stair-rods
an swells canals an becks
an fills up studmarked goalmouths
an bursts on mind like sex.
Cos sex is like a stormclap,
a swelling in thi cells
when lightning arrers through thi
an tha knows there in't owt else.'
Written in Yorkshire dialect and spoken by an unnamed narrator, the long title poem excited controversy when it first appeared. Its subject is Peter Sutcliffe but its theme is misogyny – and the same theme appears in several other poems here. As in Dark Glasses, there's a mixture of private subject matter (there are several poems about parenthood and small children) and public events, with references to several news stories of the time (including the US bombing of Libya from British air-bases, the Sara Tisdall affair and Chernobyl).
Blake reads from this poem on YouTube: https://youtu.be/-xP70_PenD
Paperback: 61 pages
Publisher: Chatto and Windus (1987)
ISBN 0701132272      BUY ONLINE