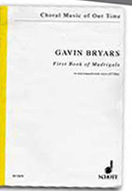 The First Book of Madrigals – Music by Gavin Bryars, for unaccompanied male voices (2000)
Gavin commissioned thirteen poems from Blake to be set to music – they were first sung by the Hilliard Ensemble in Finland in December 2000. Eleven of them subsequently appeared, along with others, in Blake's sequence 'Madrigalia', in the Selected Poems . Two others, Web and Against Dieting have not been collected.
Note on First Book of Madrigals       from Gavin Bryars' website
BUY HERE
The texts are Blake Morrison's poems.
Web
Stormy
Almond Tree
Just As The Ash-Glow`
Within Minutes
Our Bodies In The Shower
She'd Buy Things
All The Homely Arts And Crafts
In April
Who's The More To Blame
The Print Of Soles
My Pomegranate
Against Dieting